2007 News
The year 2007 was another BMX-fest. Actually we as a family are having a lot of fun, we get to travel all over the USA, see new places and things and race bicycles! We have been very fortunate to have all been very healthy - perhaps it is all the exercise.
Sports and Culture
Our friends Tom and Cricket invited us to join them in an executive suite and watch the Atlanta Falcons (USA football) at the Georgia Dome, and then the Thrashers (Ice hockey) at the Philips Arena. Even though we are not big football fans, we really enjoyed the whole scene - catered food, beer on ice, cheerleaders on the field - heaven! Shayne and I also went with Tom and Cricket to watch "Spamalot" at the Fox theater. Okay it was Monty Python, but it was a play, so I am going to call that my annual dose of culture and yes, it was entertaining.
Camp Woodward, PA.
In July, Ty went to Camp Woodward in Pennsylvania for a week. I decided that rather than spend 2 weekends flying and driving him there and back (like last year), I would be a camp volunteer and so we drove the 800 miles with 2 bikes for Ty and 2 bikes for Dad. This also gave Shayne a well earned break - I swear she appreciated us more when we got back! Ty was registered for one week of BMX racing instruction and I was designated as one of the "camp drivers". It was a pretty cool gig, I drove (a Hummer H2 or GMC Denali) to the State College airport to pick up and drop off campers and instructors, and took injured gymnasts, bikers, skateboarders to and from the hospital. When your run was completed, you went to the bottom of the list and were off until they paged you. I got to ride my bike every day except one, I rode the BMX race-track, small dirt jumps, the big vert ramp and many of the skateparks. Ty also got to feature in their advertisements for Woodward camp. More info on this extreme sports camp at: Woodward, PA
Vancouver Island, Canada
Going to camp was great preparation for my next challenge, I qualified to race for the USA in the Cruiser class in the 45+ age group at the 2007 BMX World championships held in Victoria, Canada in July. I stayed with Vern and Colleen McLeish and had a wonderful time up there. I got see to most of the McLeish family except for Jane. I was also able to see my cousin Geraldine, and Murray and "Sam". (Cameron was at summer camp.) For more details on my trip, go to 2007 BMX Worlds
Local scene
Back to Peachtree City, Shayne and I are still very involved in our local BMX track. The track has just completed another successful racing season, rider membership is increasing steadily, we have a solid team of volunteers, and there's money in the bank! Our PTC track hosted a South East Regional race in May, and the 3 day event went off pretty smoothly. Here's the race report: SE Regional race at Peachtree City
Talking about big races, Shayne and I have been asked by the NBL to run the South East Regional series for 2008. The couple that run it now are involved in preparations for BMX racing's debut in the 2008 Olympic Games, so we have 5 "interesting" weekends to look forward to in 2008.
Operation build-a-bike.
This year, Ty wanted a new bike for his birthday, the twist being he wanted to build a custom bike. We bought the frame and then each individual part, what a voyage of discovery (and quite expensive too!) I learnt more about spacers, adaptors and shims than I dreamed of, but in the end, a superior machine is the result, as well as lots of "quality time" with dad and son sweating and swearing to get things right.
Thanksgiving.
We went to the Bradford's for thanksgiving dinner, enjoyed good food and friends, and met some new and interesting people. The following morning we left for Morristown, TN. to race the indoor national BMX race. We were all having a very successful weekend of racing, all three of us transferred thru the elimination rounds to our main events. Ty was racing especially well and got to the first turn with the big guns when he made contact in the air with another rider and went down hard. Basically he landed on his chest and face, and was knocked out for over a minute. The EMT were on site, immobilized him and then transferred him into the waiting ambulance. I got to ride up front (a first for me), while Shayne stayed behind to race her main (She was on the Bizzarro team roster and the team needed the points!) Well, 5 hours later, Ty's scans came up clear, a credit card transaction and we were on our way back to the hotel.
We want to thank our BMX family for their thoughts and prayers, for the phone calls, and taking care of our bikes and equipment back at the stadium. Ty seems none the worse for wear and has healed up nicely, although I am not so sure about our severely battered credit card!
Well, another BMX-filled newsletter, sorry but it seems our lives revolve around it. We would love to hear what you and your family are up to, so give us a shout!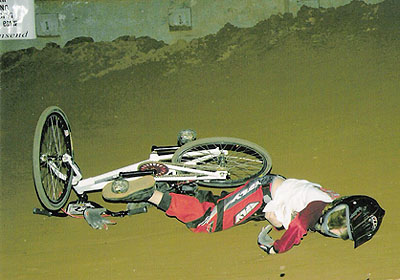 Here's how we ended up for the 2007 race season:
Anthony(45-49 Cruiser class, 2007 NBL)
Georgia State Series, 1st place
South East Regional Series, 2nd place
National Series, 5th place
UCI Worlds 2007, transferred to semi-finals
Shayne (45+ Ladies Cruiser class, 2007 NBL)
Georgia State Series, 1st place
South East Regional Series, 3rd place
National Series, 1st place
Ty (13 Expert, 2007 NBL)
Georgia State Series, 1st place
South East Regional Series, 5th place
National Series, 22nd place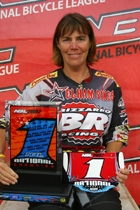 Shayne, 2007 National #1

How Michael Vick got so quick...

Camp Woodward ad in BMX Today magazine

Ty at 2007 GA State Champs.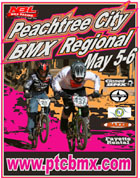 PTC regional race poster

The NBL rig stopped at our house!

Ty waiting for the results of his scans.

Ty gives the thumbs-up.

World #7, nobody, and World #8.