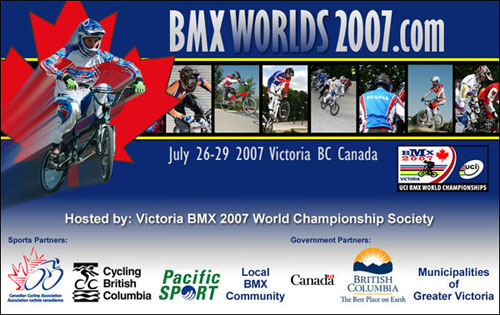 2007 UCI Worlds at Victoria BC, Canada.

General: The track was built just outside Victoria BC, Canada in the Juan de Fuca Recreation Center in Colwood, Greater Victoria. Victoria is a beautiful city, with plenty of um, Victorian style architecture mixed in with modern hotels and office buildings. Spotless streets teemed with tourists, and being a bike-friendly city with bike paths and lanes, slim, healthy locals filled the streets.
Victoria did a great job of publicizing the secret sport of BMX racing (don't tell anyone, but BMX is going to be in the 2008 Olympic Games!) Welcome banners at the puddlejumper airport, daily full-page coverage in the local Times Colonist newspaper, daily mention on the local TV channel and 3 hours on Saturday on the CBC channel. The TV crews had zipline cameras, a boom-mounted camera on the second turn, and a mega-screen monitor. The pros had RFI chips mounted on their bikes, and as they crossed the finish line, their place and lap time came up on the screen.
At last BMX has the potential to appeal to the Budweasels, and technocrats! My mind just just goes into overdrive when I think of all the fun things to do with them smart chips: holeshot-king, lap-records, and then of course the boring stuff like: registration, bike-inspection, gate-practice access, staging and scoring.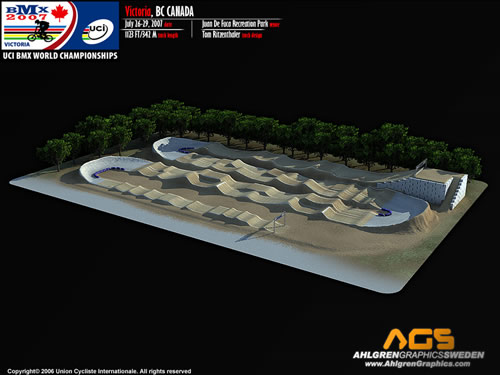 Track: As expected, the track was built for expert and Elite level riders. A big starting hill launched you towards a lipped-up step-up, followed by a 30+ feet deep-fried double. A traffic-calming roller funnelled you into an immaculately shaped (and smooth) asphalt left turn. The Pro's railed the turn with the afterburners on and the waiting big-gap pro-section, mere mortals tightened up the turn to align themselves with the 2nd straight (any non-pro rider railing the turn had to make a serious zig to the left to join those who had chosen the shorter low-low or high-low line)
This split invariably causes a choke-point down low in the meat of the turn for the amateurs (perhaps the inside line could have been pushed out wider in the last 3rd of the turn to widen the sweet spot which was only 2 bikes wide. Skid marks do tell tales.) I still think that Tom Ritz did a superb job of building 2 tracks in one.
The second turn was protected by a step-up into 3 deep rollers which punished riders and rewarded those with technical skills. Another smooth, perfectly shaped turn leading into another 2 big-gap pro-section and lesser-mortals 3rd straight.
Turn 3 launched the riders towards an intimidating, highly-technical "rhythm section" which stair-stepped up and then down, with a deep roller protecting the entry, and another the exit. A bobble or bonk killed your momentum, and with nowhere to pedal, you were in big trouble!
Lap times were around 35 seconds for the Elite men. Overall, this was a technical, world class track with plenty of opportunities for passing, which produced excellent racing for riders and spectators. Sweet job, Tom!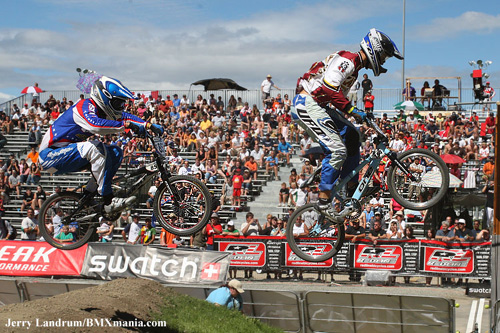 Racing: There were almost 2000 riders representing 37 countries. The USA had 439 riders qualify and register to race, and I believe that 286 USA riders wore the USA jersey for this event. Thursday saw the 14 and under boys and girls racing thru to their mains and trophy ceremony, Friday was the 15+ boys and girls, Saturday was Elite and Junior, Men and Women, and Sunday Cruisers and Pro Cruisers. The challenge cruiser race session had over 60 motos, with the Men's 45+ age group having 42 entries, resulting in 6 racks of crazy, old men reliving their childhood.
Motos: My moto #46 drew a full rack of 8, pressure - top 4 based on Olympic scoring system transfer to the quarters.
Round 1: We get into staging and are sizing each other up, counting heads - two missing, this is a stroke of luck, it's confirmed 1 broken arm and another guy with a broken collarbone - so you just have to beat 2 people. I'm on gate #2, the crowd is LOUD, I barely hear the cadence and I'm thinking I need to become a light-watcher, until then it's focus on that gate! Coming out of turn 1 I'm in 2nd place, pressure's on but I am able to keep a comfortable buffer as I exit turn 3 and attack the first roller. I am going way to fast and forget (forget?) to pull up, I slam into the next roller, bobble and recover, can hear 2 other riders taking avoiding action - that was close. I cross the line in second place.
Round 2: In gate #7, I get a great gate and am able to rail the first half of turn one and then cut down for a comfortable second place. Pressure is off, barring something crazy, I am going to make it out of the motos!
Round 3: In gate #4, I get another good gate and another uneventful second place.
Quarter-final: Moto #423 and I am in gate #6, coming out of turn one, I am pushed wide by the insiders, I'm in 5th place, stay smooth, these guys ahead of me are all over the place. On the third straight, bam 2 guys go down, I manage to avoid the yard sale and grab 3rd place - Yes, thru to the Semis!
Semi-final: Moto #214 and I am in gate #3, going into turn one, I am in 4th place, but I am sandwiched between 2 guys, I decide to hold my position, but the outside guys have all wised up to the down-low sweet spot and push everyone down, I brake and I am flat last as I watch 2 guys rail around the outside and leave me behind looking for momentum. I pass one guy, and another guy falls in the same place on the third straight. I hit the brakes and slither around him and take up the chase again, but I am running out of track. Fifth place. Well. I'm done, unless with all the craziness, someone was DQed by one of the many officials ("commissars", oi?) on the track.
Main: I check the moto board, no such luck, I start packing up so that I can watch my race from the bleachers. Peter Jensen was clearly the man to beat, defending his World #1 title that he earned in Sao Paulo, Brazil in 2006.
By the time I got out of the pits, my class main was over. I got the scoop from George who started in gate 3 and the same thing that happened to me in my semi, happened to him - except that he did not brake and he had a hole in his race pants over his left knee!
45 & Over Cruiser Results:
1. Peter JENSEN (CAN)
2. Donald HILL (CAN)
3. Laurie PENNY (NZL)
4. Tony FLUET (CAN)
5. Bert VOLKERS (NED)
6. Mike KELLEY (USA)
7. Stephan GONZALES (USA)
8. George GRANT (USA)
Well Pete, you prepared well, and raced smart n' smooth. World #1 for 2007. Congratulations to an all-round nice guy!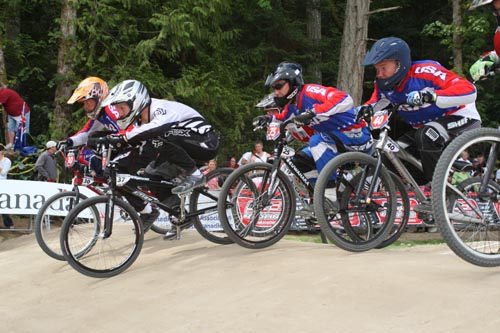 Interesting people I met:
Jerry Landrum of www.bmxmania.com Jerry sat next to me on one of my plane rides. He really is passionate about BMX.
Javier Colombo 2006 Men Elite Worlds champion from Argentina,South America.
Eric Heiden, 5 gold medals in Speed skating at 1980 Olympic Games, USA BMX team doctor for this event. Eric always remembered my name and asked me how the race was going. Eric, it was an honor and a privilege to have met you. More about Eric Heiden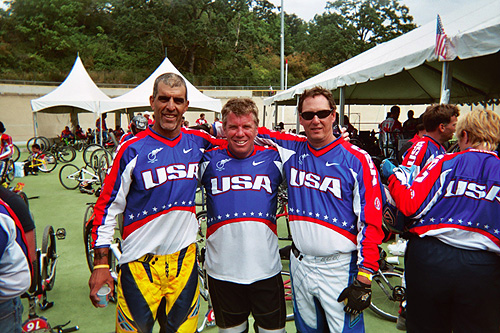 Thanks:
Thanks to the McLeish family for allowing me to stay with them. Your kindness and generosity will not be forgotten.
USA team manager, Brian Fell stayed calm and delivered the news amid chaos and confusion. Where's my number plate? The UCI said that we would not be able to practice without it? USA team mechanic, Danny Meadows was a calming influence and ready to "make a plan" for the riders.
Also team USA had water, Gatorade and fruit available on raceday - that was great, especially for the younger riders whose parents did not have access to the pit area. Thanks again, guys!
Oh, please send this message to the USA team decision-makers: the riders WOULD prefer a USA team t-shirt and cap, rather than hiring a massage therapist (available to the Pros only) While we understand that the Pros are the stars of the show, us challenger class riders are their sponsors, don't kill the golden goose!
Send your emails to: USA Cycling membership and Mike King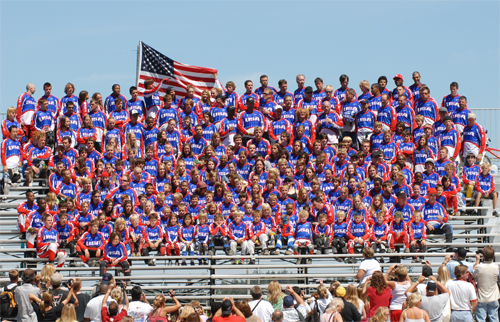 Credit: Barney Brown, championsphotography.com
Wrap up: This was an awesome experience - one which I hope to repeat before I die. To me there is no greater honor than to represent and compete for your country, and was even more special as I was able to do this for the country that adopted me. God bless the USA!

Photos: Click for the big picture.

| | | | |
| --- | --- | --- | --- |
| Mega screen | Noisy crowd | Wide, deep double | On local TV |
| Starting hill | Stepup launch was paved | turn1 exit | turn 2 |
| Sonny and Lauren Hines | Ant and Sonny | Kiwi banner | pro practice |
| turn3 rider down | USA pits | USA guys | USA gals |
| After practice, ready to race | USA tent | Pit area within the velodrome | Pits behind the starting hill |
| MB diesel (SUV) | Overflow parking lot | Colleen, Liz, Vern | Ant, Colleen, Vern |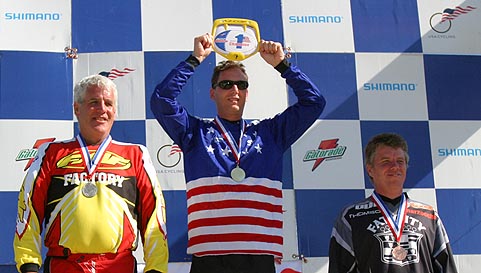 June 9th, USA Cycling championships in Pontiac, Michigan, 3rd place in 45+ Cruiser class qualified me for the Worlds!
Itinery for Anthony's trip:
| | | |
| --- | --- | --- |
| Monday 23 July | 07:05am - 08:59am | Delta DL0623 ATL-SLC |
| | 11:06am - 12:21pm | SkyWest DL3997 SLC-YYJ |
| | 06:00pm - 09:00pm | USA team hotel, pick up jersey, number plates, credentials |
| Tuesday 24 July | 01:30pm - 02:55pm | Group 3 practice (USA) |
| | 07:00pm - 08:00pm | USA team hotel, pick up number plates, team meeting |
| Wednesday 25 July | 11:30am - 12:55pm | Group 3 practice (USA) |
| | 04:30pm - 05:30pm | Riders Parade (Opening) Ceremony |
| | 07:00pm - 08:00pm | USA team hotel, pick up number plates, team meeting |
| Thursday 26 July | 08:00am - 08:55am | Warmup for Challenger classes (no gates) |
| | 09:00am - 03:00pm | UCI BMX World racing (boys/girls 5 - 14 years old) |
| | 03:30pm - 04:30pm | Prize giving ceremony |
| Friday 27 July | 08:00am - 09:00am | Warmup for Challenger classes (no gates) |
| | 09:00am - 01:30pm | UCI BMX World racing (boys/girls 15 - 30+ years old) |
| | Afternoon | Visit cousin in Duncan |
| Saturday 28 July | 11:30am - 12:00pm | Official Opening Ceremony |
| | 12:00pm - 04:00pm | UCI BMX World Pros racing (Elite/Junior classes) |
| Sunday 29 July | 08:00am - 09:00am | Warmup for Cruiser classes (no gates) |
| | 09:00am - 01:30pm | UCI BMX World racing (Cruiser classes) |
| | 01:30pm - 02:00pm | Prize giving ceremony |
| Monday 30 July | | Package and UPS bike |
| | | Drop off rental car at airport |
| | 12:51pm - 04:00pm | SkyWest DL3816 YYJ-SLC |
| | 04:40pm - 10:21pm | Delta DL1132 SLC-ATL |
45 & OVER Mens Cruiser Class entries:
| | | | |
| --- | --- | --- | --- |
| Country | # plate | Name | Born |
| Australia | 17 | DRIERS, VERNON | 1961 |
| | 36 | NICHOLLS, DAVID | 1960 |
| | W7 | WALL, PARRY | 1959 |
| Brazil | 42 | SANTOS, ADÉSIO | 1962 |
| Canada | 12 | AUGUST, CHRIS | 1950 |
| | 13 | BAXTER, STEVE | 1962 |
| | 15 | COUTUR, JEAN-MARC | 1958 |
| | 16 | DOEHRING, VICTOR | 1961 |
| | 18 | DUMAIS, RICHARD | 1959 |
| | 19 | EDGAR, STEVEN | 1958 |
| | 20 | FAIRBAIRN, GORDON | 1956 |
| | 23 | FLUET, TONY | 1962 |
| | 26 | HALLIDAY, STEVE | 1954 |
| | 28 | HILL, DONALD | 1956 |
| | W1 | JENSEN, PETER | 1958 |
| | 31 | KREUZKAMP, GEORGES | 1961 |
| | 32 | LEE, RANDY | 1960 |
| | 33 | MACKINNON, RON | 1959 |
| | 35 | MURPHY, DALE | 1960 |
| | 38 | PLANTE, MARTIN | 1961 |
| | 41 | ROSS, BRIAN | 1961 |
| | 45 | STEWART, JIM | 1961 |
| | 46 | STINSON, MALCOLM | 1960 |
| | 47 | WILLIAMS, KEN | 1938 |
| Chile | W3 | FAUNDEZ, AMERICO | 1959 |
| Colombia | 39 | RIOS, JUAN | 1959 |
| Czech Republic | 34 | MERTA, ZDENEK | 1957 |
| France | 22 | FAUTRAI, JEAN PIERRE | 1962 |
| | W3 | LEVAY, MARC | 1960 |
| Germany | 27 | HANISCH, BODO | 1959 |
| | 43 | SCHREIBER, KLAUS | 1956 |
| Netherlands | W2 | VOLKERS, BERT | 1957 |
| New Zealand | 11 | AMOR, ALF | 1960 |
| | 20 | ELLIS, BRIAN | 1958 |
| | 29 | HOWLETT, DENNIS | 1944 |
| | 37 | PENNY, LAURIE | 1962 |
| USA | 14 | BUSHNELL, DANNY (Washington) | 1954 |
| | 24 | GONZALES, STEPHEN (Florida) | 1957 |
| | 25 | GRANT, GEORGE (Indiana) | 1960 |
| | 30 | KELLEY, MIKE (Utah) | 1959 |
| | 40 | ROBINSON, ANTHONY (Georgia) | 1960 |
| | 44 | SHERADEN, RON (Idaho) | 1962 |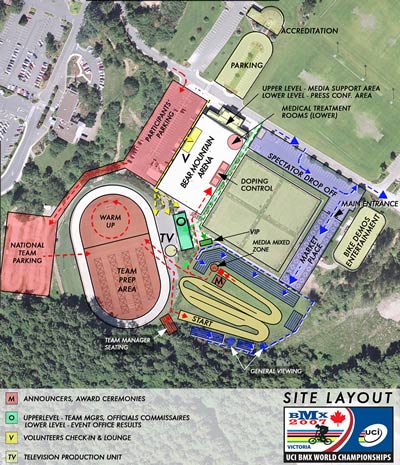 Links:
Jerry Landrum of BMX Mania reports on 2007 Worlds
UCI 2007 BMX World Championships Official website
BMX Worlds blog page: Comments on the racing
More pictures: Public domain photos
My home track: PTCBMX.com
My BMX team: PTC BAWLS BMX team
Newspaper articles:
Hatley Park hosts 'X-travaganza' for BMX World Championships
Times Colonist: Saturday, July 21, 2007
World's best BMX riders ready to roll in West Shore
Times Colonist: Tuesday, July 24, 2007
Canadians looking for Olympic BMX success
Times Colonist: Wednesday, July 25, 2007
Wheels will fly at BMX worlds
Times Colonist: Thursday, July 26, 2007
Island future BMX stars take world stage
Times Colonist: Friday, July 27, 2007
Beijing beckons BMXers
Times Colonist: Saturday, July 28, 2007
BMX: No glory on home soil for Canadian Olympic hopefuls
Times Colonist: Monday, July 30, 2007

---

Anthony 45-49 Cruiser class (posted August 2007)
Victoria BC, Canada: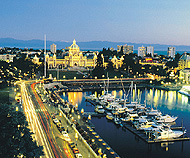 Victoria harbour by night
Credit: Tourism Victoria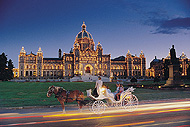 BC Parliament Building
Credit: Tourism Victoria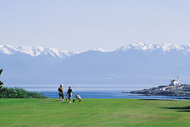 Victoria golf
Credit: Tourism Victoria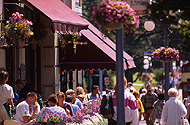 Victoria cafe
Credit: Tourism Victoria

BC province Capitol
Credit: Tourism Victoria

Vancouver Island: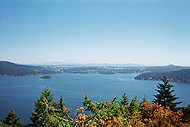 Malahat Ridge, bay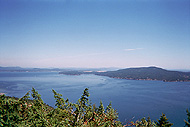 Malahat Ridge
Saanan Peninsula (airport)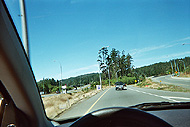 BMX roadsign

Four Mile Pub, Colwood
Juan de Fuca Park:


UCI 2007 BMX Worlds logo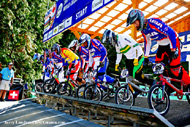 Elite Men - Main event. Kyle gets it right and has his number plate on the correct way. Fortunately for him, he did not have to "modify" his number. Well spotted, Jerry!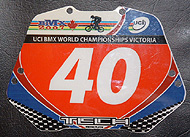 My elusive #plate, three trips to the host hotel - nothing. Danny, the mechanic organised to have them in the pits on raceday. However he was unable to acquire the USAC waivers (no waiver, no numberplate.) Luckily I found a spare USAC waiver from the Michegan race in my file. All this paperwork and regulations wouldn't be so bad if the officials had their act together. Why make me sign this form at every race? When I paid my $150 USAC membership, I pretty much signed that you owned me! Rumour: The USAC decided to leave registration open past the deadline and submitted the USA team to the Canadian Worlds committee (responsible for getting the number plates made) causing them to blow the printers lead-time. The UCI and US Customs amongst others took the "ding".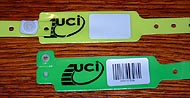 Again, excellent idea, poor execution. Barcode on your wrist, access to the pits. Barcode on your bike, linked to your wristband - secure system. Two laps around the track and the barcode was fading! No more scanning at the access point, go low-tech, use your cable and lock.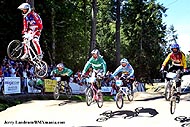 Alise Post boosts the big double on the first straight - yes, it did require a large dose of courage and desire.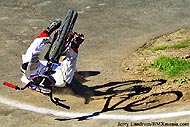 Amanda Geving clipped the last of the deep triple rollers and fell to the bottom of the second turn.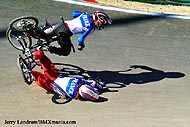 Snails! France has the misfortune of meeting a fellow team rider in the second turn.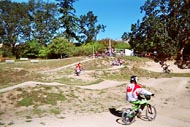 There is a cool ABA track right beside the velodrome. The Worlds track is rumoured to be NBL, and all the tracks on the island are ABA. My guess: they will close the ABA track and the Worlds track will become a white elephant. Come on guys, do what's right for BMX.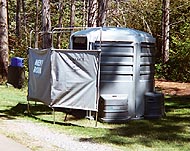 The Men's Room, now why didn't I think of this? It saved time, and freed up the regular portaloos for those who needed to sit down.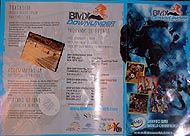 The Aussies are organised for 2009! The Adelaide venue is set up and being used for racing. They promised that the track would be changed for the 2009 Worlds.
Video:

Cruiser Men 45+ Main

Elite Men Main