President's Cup down in Sarasota, Florida
Ty certainly dominated 2004/2005 novice. He came out top novice in the USA and turned expert in January. He still makes his mains and when he gets a little bit bigger, ( he is the lightest racer out there at 74 pounds, the next weight being 105lb) he will be number one again!! Some of the guys he races are little men!!! Mom and Dad did very well too and finshed 3and 4 for our racing that weekend!
Islands of Adventure
Well, we stayed in Florida after the racing and spent the next 4 days at Disney with our friends the Harbin family. The Matt Hoffman show was awesome, saw some great bike and skateboard skills.
Universal Studios
We did the Mummy Returns ride several times. Tame enough for me, I hate the really big rides, so left Anthony and Ty to do those alone.
Kennedy Space Center
The kids had a great time at the Space Center, a little quieter than they wanted, but they got to learn a lot about space and see how small the inside of one of the shuttles really is.
Dodgeball
Well, a few beers before the event and a few beers after the event got the " Bald Eagles" through to the quarter finals. The next youngest team was 20 years old. Our boys, Scott, Jeff and Ant had the last laugh, because they were old enough to go home and drown their sorrows!!! Revenge has been promised and they even threatened to practice before the next season 2006. Of course they now realize why the opposition wear knee pads, stockinged legs and wrist guards. Jeff had his thumb dislocated by a ball he caught!!!! Fortunately, their age results in having friends in all the right professions, and a doctor friend was called out to pull it back into place! Free of charge, with a whisky and coke.
Tour de Georgia
The Tour de Georgia is treated as a warm-up race for Lance Armstrong, and so we had a opportunity to watch him ride through Peachtree City. Now you see him, now you don't, they passed us so quickly that we just got a glimpse of Lance (we think) zipping by sandwiched in the peleton.
Pikes Peak, Colorado
Phew this was the worst weather ever in the history of the event. We decided to do this only because it was the 50th anniversary, and then only the ascent. Anthony and Ty came out to watch me, which was really cool. Well, one mile from the top it began to hail, temperatures dropped to 32 degrees, with a wind howling. It was golf ball size and with only 20 minutes left of the race for us, it was just crazy. We also had to lay flat on the ground every so often as lightening hit the ground. Ty kept calling me on my cell phone because they could not see the top of mountain, all they could see was thick clouds! Cricket, Susan and I got bruised by the hail, 8 and a half inches pelted us for 30 minutes, at 14000 feet. Then we were stranded at the top for 4 hours at that altitude, roads shut down, Eventualy the tram train picked us off the mountain. The next day a veteran runner had a heart attack at 10000 feet and died. That was certainly an adventure, and one we lived to talk about. Next year we are thinking of doing adventure racing as a team, after Pikes Peak, it will seem a little tame. We carry food and extra clothes that we put on at 10000 feet and dry socks, kinda like pack mules. Have to be prepared for anything!
Rome Marathon
Stephanie , Tammy and I also flew into Rome, Italy to run the marathon in March. We had a blast, and ate and drank our way through Rome. I speak Italian, so we had no problems getting around and ordering food. Got the train system down pat, had fun with the taxis and driving. Stephanie would never sit in front !! Tammy and Paul got engaged as well. Paul kept up with us on the marathon route and took some awesome pictures too. The cobbled streets killed the bottom of our feet, think if we do that again will defnitely wear mountaineer shoes!!
Snow Day
Ty had fun when we had snow day in February. The road is very steep alongside the house and this makes excellent snowboarding and hill training for us. The kids pick up some high speeds on their stomachs sliding down the road. Looks like we will get to do it all over again this year, winter has come with a vengeance.
BMX, grands, local
BMX and the Grands. Good news: I reached my main and got a huge trophy, finished 4th in the nation. Anthony and Ty not only love and adore me but now appreciate how much work I do. Bad news: My collar bone needed a metal plate and ten screws to piece it back together and rehab really sucks. Good news: I am fit enough to race in the Presidents Cup next week. I am back to running, a little slower, hate getting fit again, and still can not do a decent push up, but then again I am not 17 any more!!!!
Anthony and Ty finished out the season 10th and 14th ranked in the nation. Really, really good in their classes. We still might go to the Worlds in Sao Paolo, Brazil next year, we are all qualified, except I would have to race 19 year olds, so will pass.
Anthony is now Track Director of the Peachtree City BMX, I am President and also Georgia State Commissioner for 2006. We will be in Las Vegas in February at NBL Competition Congress and then pretty much racing and organizing our track and all the other tracks the remainder of the year. Our team (and sponsor) Fat City won the Georgia State series so we will be defending our title again next year. So, the best way to keep up with us is to look at our website www.ptcbmx.com Anthony is the co-webmaster!!
Work
Delta Airlines is still in business! For 4+ straight years we have made losses and only went into bankrupcy in September 2005. The requests to work harder and produce more with fewer people continue. These are challenging and interesting times! The floggings will continue until morale improves!
Family Visits
My brother Greg from Charlotte spent a weekend with us in September. We had Pat and Isabel come out from South Africa and spend 3 weeks in Charlotte and Atlanta. It was good to see them all.
Newsflash: December 17 we bought a used 2003 Yamaha YZ85 for Ty for Christmas! This will hopefully keep him busy when we are not BMX racing. Dad is looking for a 125YZ, because someone has to keep up with Ty and keep him safe and we all know that mommy is not getting on a dirt bike!!!
Ty won his main in Florida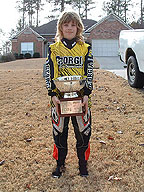 We enjoyed this show (Islands of Adventure)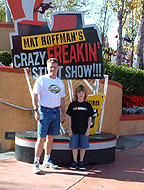 Return of the Mummy ride- excellent ride (Universal Studios)

Moon rock display (Kennedy Space Center)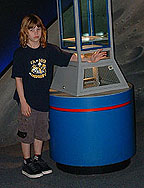 Rover, lunar vehicle (Kennedy Space Center)

Snow day in February (ice!)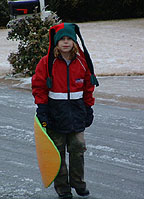 Rome Marathon

Dodgeball tournament

Lance Armstrong is in there! (Tour de Georgia)

Pikes Peak debutantes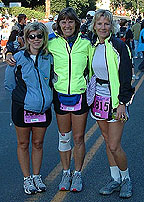 Pikes Peak at 7am

Pikes Peak at 1pm. They are still up there!

Todd and Anthony, NBL Grand National

Shayne made it thru to the finals, but fell and broke her collarbone!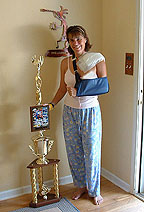 Ty jumps a large step-up

Sweet pencil manual!

Ant is improving!

Ty with his 2003 YZ85